Balun series
---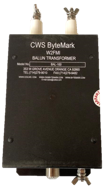 CWS ByteMark
manufactures these Baluns based on Dr. Jerry Sevick's (W2FMI) design.
Custom K type permeability core is used to obtain the widest bandwidth.
1 Mhz to 50 MHz with lowest energy loss.
Typically insertion loss is less than 0.2 dB.
High Power Handling Capability - up to 10 Kw.
Highest voltage breakdown ratings.
Both "Current" and "Voltage" types available.
Aluminum case with SO239 connector and 2 ceramic feed through post as outputs. Custom case, fully encapsulation and other customization are available at added cost.
Dimension A : Height = 5.5" ( 6.8" including the flange). Width = 3.8". Thick or depth = 2.3".
Dimension B : Height = 5.8" ( 7.3" including the flange). Width = 4.8". Thick or depth = 3.6".
All units are
weatherproof
, built with non rusting materials.
CWS ByteMark Part Number
is the part number to use to place purchase order. 1 inch = 25.4 mm
•
Techical Information
---
Low order fees are charged to total a minimum payment of $25.
Quantity marked in red is subject to availability and prior sales, or back order.
Orders are processed in 2 to 3 business days.
Items are sold only in as-is configuration, and packaged in individual boxes.
Please call for volume and price inquiries or email
sales@cwsbytemark.com
Part Number: Balun type - ohms balanced to unbalanced
Ex: BAL-450 where BAL = Balun,  450 = ohms balanced to 50 ohms coaxial unbalanced.