UNUNs
---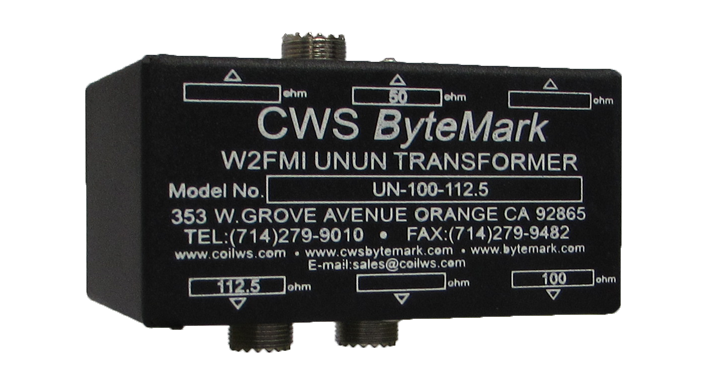 CWS ByteMark
manufactures these Ununs based on Jerry Sevick's (W2FMI) designs.
Broadest Bandwidth (1 MHz up to 50 MHz).
Lowest Energy Loss ( < 0.2 dB).
Aluminum Casing with SO 239 Connectors, on both Inputs and Outputs.
"N" connectors may be available on request. Dimension: 4" x 2" x 2.8" (same for all models).
Each units are tested using HP4286A. 12 months warranty.
All units are
weatherproof
, built with non rusting materials.
Potted version available on request at an additional cost.
Applications:
Matched 50 Ω (ohms) cable to input impedance of ground fed antennas such as verticals, slopers, inverted L's and towers performing as verticals
CWS ByteMark Part Number
is the part number to use to place purchase order. 1 inch = 25.4 mm
•
Technical Information
---
Low order fees are charged to total a minimum payment of $25.
Quantity marked in red is subject to availability and prior sales, or back order.
Orders are processed in 2 to 3 business days.
Items are sold only in as-is configuration, and packaged in individual boxes.
Please call for volume and price inquiries or email
sales@cwsbytemark.com
Part Number: Type-Impedance #1-Impedance #2
Ex: UN-100-112.5 where UN=UNUN, 100= out impedance #1, 112.5= out impedance #2