R series
---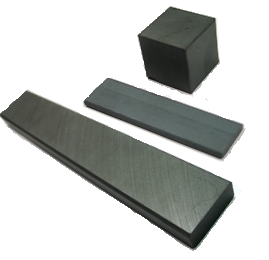 AL (nH/Square Turn or nH/N2)
is the A
L
value.
L
is inductance in nH (nanohenries)
N
is the number of turns of a wire
Required turns (N) = square root of (desired 'L' /'A
L
'), √
'L' /'AL'
, or 1000 turns=, (square rooted)
CWS ByteMark Part Number
is the part number to use to place purchase order. 1 inch = 25.4 mm
O.D./ W
is the outer diameter or width of the Ferrite
I.D.
is the inside diameter of a Ferrite Tube
HT
is the Height of the Ferrite
LH
is the Length of the Ferrite
Ferrites may come in the shape and characteristics of: solid Rods, Tubes (hollow center), solid Slugs and solid Plates (slates).
Color may vary by material and coating characteristics.
Custom block, characteristics, properties, size and shape can be requested.
•
Technical Information
•
Custom Size Rods
For other product details refer to: http://www.bytemark.com
---
Please contact us for custom dimensions, cuts and shapes for ferrite slugs, strips, and rods.
Low order fees are charged to total a minimum payment of $25.
Quantity marked in red is subject to availability and prior sales, or back order.
Orders are processed in 2 to 3 business days.
Please call for volume and price inquiries or email
sales@cwsbytemark.com
Part Number for Round Ferrite (Type - O.D. x Length - Material or Mix)
Part Number for strips or tubes is indicated by single instructed bracket guidelines (enclosed values).
Where sizes are divided by a 100 for measurements in inches.
Ex: R-037400-61.
R= Ferrite Rod   0.37 = O.D. Dimension,   4.00 = Length of the Ferrite Rod,   61 = Ferrite Rod Material.
Data enclosed in brackets, [], determines shape and characteristic.